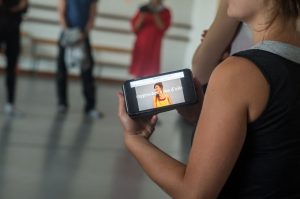 Production 2017-2018  (Radical Choreographic Object)
with Sarah Fdili Alaoui (scientist and artist)
First presentations:
– November 7, 2017, Le 104, Paris, 8:40 pm (50th anniversary of the INRIA)
– December 19, 2017, 6:30 pm, Bellegarde Cultural Center, Toulouse as part of the Metabody_Toulouse 2017 event
– April 13-14, 2018, 8:30 pm, Theater Le Ring, Toulouse

RCO, interactive choreographic performance
RCO is an interactive participatory dance performance, with variable scales, which unfolds according to the physical behavior of audience participation and their reactions instructed via their smartphones.
Audiences, as they desire, trigger rules which they discover little by little.
A unique choreography which adapts itself to the participants, the architectural spaces and the number of dancers-performers.
RCO is laureate of the call for proposals Phare 2017, the Diagonale Paris-Saclay.

Dancers-performers: Ambre Cazier, Izaskun Insausti, David Mazon, Mario Garcia Saez
Technological collaboration: Arnaud Courcelle (main designer of the interactive set via mobile phones) and Jean-Philippe Rivière (LRI laboratory)
Costumes:  Aline Pérot
Artistic collaboration: Marianne Masson
Photos : Fabien Leprieult