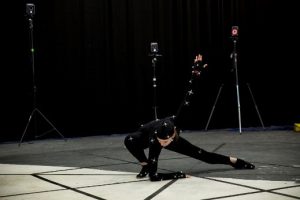 WhoLoDancE European Research and Education Project (H2020 program)
The WPW (WhoLoDancE Performative Workshop) aims at offering interested audiences an « experiential journey » whereby they discover and/or deepen their knowledge of 4 different dance genres and participate directly in the various ways innovative digital technologies, developed within the EU funded WhoLoDancE research and education project, are integrated in new pedagogical processes for teaching, learning and creating dance movements.
Amongst these technologies: high precision motion capture, algorithmic treatment of data, annotation of movement principles and qualities, segmentation, machine learning and similarity search, blending engine, sonification, movement sketching, etc.
See all the information in www.wholodance.eu
Festival della Scienza, WPW, Genoa, Italy, Octobre 27, 2018
Romaeuropa Festival, final presentation of the WPW and performance "Two Pandoras" (in close collaboration with Instituto Stocos), Roma, Italy, Octobre 7,  2018
Eusipco, European Processing Conference, Roma, Italy, Septembre 7,  2018
MOCO'18, WPW, InFomus (Unige) Casa Paganini, Genoa, Italy, June 28-29, 2018
WPW (Wholodance Performative Workshop), Naves Matadero, Madrid, Spain, April 17-18, 2018
Art-Science-Danse, Centre Culturel Bellegarde, Toulouse, France, December 18-19, 2017
MOCO'17,Goldsmith University, London, UK, June 2017
Forum, University of Coventry, Coventry, UK, January 2017
Seminar – Meeting, Politecnico di Milano, Milano, Italy, Decembre 2016
MOCO'16, 3rd International Symposium on Movement and Computing, July 2016 and WhoLoDancE Satellite event, Thessaloniki Concert Hall, Thessaloniki, Greece
K. Danse participes in the MOCO Forums and et co directs several workshops in the frame of WholoDancE.
Some comments on the annotation tool for segmentation:
"Segmenting dance movement is not an easy process. The annotation tool was easy to use and the design of interface made the process quite intuitive. Even when a sequence was made of a large number of segments I was still able to segment it properly. In addition, the possibility of saving a draft before hand allowed me to go back to it, make corrections and save a proper version. I must say that going through this process of segmentation can be an important aspect in dance composition and the tool itself can help to push the boundaries of movement memorization and possibly analytical improvement of a given choreography."