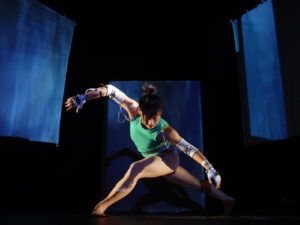 Production 2006-2007 (body and physiological sensors, neural networks) -> fotos mas abajo de pagina
video excerpt with performer Yuko Yamada, in collaboration with programmer Ivan Chabanaud and composer Roland Cahen.
As technologies develop, the individual senses a growing agency, an increasing power over the world. But as the human interlocutor is replaced by technology, the exerting power becomes displaced and intangible. As the power of the individual in virtual space increases, the power of the body in physical space is reduced by a strategic partitioning of time, space and movement.
The western metaphor of light as objectivity and truth posits light/sight as right and good; darkness as bad. The images that surround us often promulgate this idea. Para_site investigates these notions – power, discipline, and the docile body.
16 December 2006: Médiathèque of Camponac, Pessac
3 March 2007: Caixa Forum, Barcelona (Festival IDN)
3-4 May 2007: Bellegarde Cultural Center, Toulouse
29 September 2007: Theatre Marcel Pagnol, Villeneuve-Tolosane
11 November 2007: Center for digital creation, Issy-Les-Moulineaux
Links:
En Didascalie
Information wiki
Ivan Chabanaud
Roland Cahen
Downloads: ver la web en inglés
complete description-pdf | technical sheet | Bio partners: ver la web en inglés