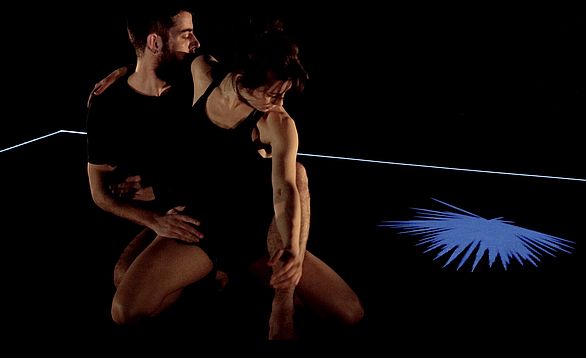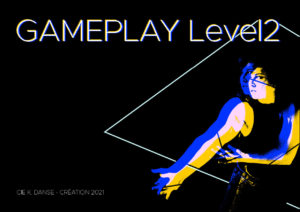 > Production 2021  – new videos: teaser and 8mn excerpts
Editing : Glenn Felix- with Izaskun Insausti, Lucien Brabec, Antoine Schmitt, Fabien Leprieult and Flaure Diallo. An eutopia* for two human beings immersed in a milieu with complex rules, which emphasizes the power of a relationship over external and internal authority.
> January-February-March-April 2021, creative residencies at Bellegarde CC
> November 30-December 4, 2020 – CDCN Occitanie (Metabody_Toulouse #3), Research Lab
> December 7-11, 2020 – Studio La Vannerie (Cy La Baraque), Toulouse
 dossier
Co-concept, choreography: Jean-Marc Matos
Co-concept, design of the interactive visual and sonic tableaux:
Antoine Schmitt www.antoineschmitt.com
Dancers: Izaskun Insausti & Lucien Brabec
Lights: Fabien Leprieult
Costumes: Flaure Diallo
*Eutopia is the neologism invented in 1516 by the English writer Thomas More in his book The Utopia which gives its name to the Imaginary island. Different from utopia whose privative prefix u and the radical topos mean " a place that does not exist", different from dystopia whose prefix mean "bad", eutopia is constructed with the prefix eu-, which means « a place of good ».