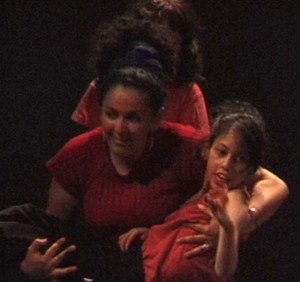 Contemporary dance performances made, since 2007, with a mixed group of disabled and non disabled children.
A Dance and multimedia project for Clai/Clae providing creative activities with mixed groups of non-disabled children together with children with severe cognitive and physical disabilities, including performance making, leading to public presentations, a collaboration between the Educational and Medical Institute Bousquairol, and the Community Center of the city of Villeneuve- Tolosane, each year, 2007-2012.
See video excerpts of performances made in 2007, 2008, 2009, 2010, 2011 and 2012
Presentation at the Theater Marcel Pagnol, Villeneuve-Tolosane,
Feet and hands: dance and video performance, April 2007
The sand man: dance and video performance, March 2008
The flying trunk: dance and video performance, April 2009
Les petites sirènes: new piece created with sensors (wii mote) for real time treatment of sound, April 2010
Le voyage de l'ombre: dance and video, April 2011
The Queen of snow: dance and multimedia, April 2012
The 2010 project has been granted a prize from the National "Handicap Culture" program 2009-2010.