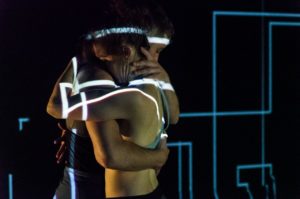 Production 2021   video excerpts
Interactive choreography.
An eutopia* for two human beings immersed in a milieu with complex rules, which emphasizes the power of a relationship dealing with outside and inside authority.
February 7-11, 2022, residency at the Scene44, Artistic Factory (European scene for choreographic creation & digital innovation), Marseille – Public presentation Friday 11
Premiere: May 6-7, 2021, Bellegarde cultural Center, Toulouse
Co-concept, choreography: Jean-Marc Matos
Co-concept, design of the interactive visual and sonic tableaux:
Antoine Schmitt www.antoineschmitt.com
Dancers: Izaskun Insausti & Lucien Brabec
Lights: Fabien Leprieult
Costumes: Flaure Diallo
Voice recording: Anne-Valérie Thauront (sound engineer: Sébastien Bramardi)
Sound design: Jean-Marc Matos
Music (excerpts): Mark Pritchard, Gadi Sassoon, Ana Roxane, Guy Andrews, Givi Gelashvilii, Selm, Marin Gore, Kagami Smile, Spangle, Caterina Barbieri, Doris Day, Alva Noto, Clark
*Eutopia is the neologism invented in 1516 by the English writer Thomas Moore in his book The Utopia which gives its name to the Imaginary island. Different from utopia whose privative prefix u and the radical topos mean "a place that does not exist", different from dystopia whose prefix mean "bad", eutopia is constructed with the prefix eu-, which means "a place of good".
photo credits: Fabien Leprieult
video editing: Glenn Felix
video shooting: Glenn Felix et Marcos Riesgo
Partners: City of Toulouse, French Ministry of Culture, Occitanie Regional Council, Haute-Garonne Council.
Residencies: Centre Culturel Bellegarde, Friche culturelle La Vannerie, Théâtre Marcel Pagnol de Villeneuve-Tolosane, CDCN La Place de la Danse, Toulouse and Scene44, Artistic Factory (European scene for choreographic creation &digital innovation), Marseille