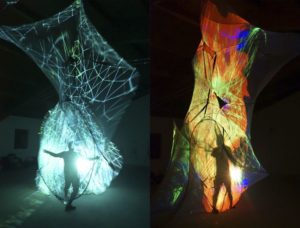 Metabody_Toulouse 2020 proposes

Four periods, four locations, on the theme:
Distant bodies – Broad/Low Bandwidth Bodies (in times of algorithms and social distance) >> See text below
Projects which explore telematics, proprioception, proxemics and choreographic composition at distance
as part of the Forum Metabody 2020, https://metabody.eu/imf-2020/and https://metabody.eu/metabody-toulouse-2020/
– du 26 au 30 octobre – Théâtre des Mazades > teaser vidéo
Résidence de création avec le performeur et philosophe Jaime del Val (Reverso/Metabody) en collaboration avec Jean-Marc Matos (Cie K. Danse) et les participants de l'atelier de formation/création – visites possibles en fin de journée et présentation de sortie de résidence le 30 octobre, petit Théâtre des Mazades, Toulouse 17h30.
– les 16 et 17 novembre – Théâtre Marcel Pagnol, Villeneuve-Tolosane > teaser vidéo
Séance expérimentale de « danse en ligne » en collaboration à distance avec les compagnies Col'jam (Casablanca, Maroc), Konic Thtr (Barcelone, Catalogne) et Reverso (Madrid, Espagne).
– du 30 novembre au 4 décembre – la Place de la Danse CDCN Toulouse-Occitanie > teaser vidéo
Résidence de recherche-création-formation, sur le thème « Laboratoire-Fabrique du Mouvement-Composition chorégraphique à distance ». Séances animées par Jean-Marc Matos, adressées à des danseurs.e.s confirmé.e.s ou pas et à de jeunes créateurs toulousains. Pendant la semaine, des intervenants sont invités : le roboticien Thomas Peyruse, le plasticien Claude Jeanmart, etc.
Recherche autour de la création 2021 « Gameplay Level2 ».
Studio 48 rue de la République, Toulouse.
– les 17 et 18 décembre – Centre culturel Bellegarde, Toulouse > diffusion live sur YouTube 18 décembre à 17h30
Remote performance between France, Spain and Morocco
"On line desalignment – Strange intimacy" in collaboration with companies Col'jam (Casablanca, Morocco), K. Danse (Toulouse, France) and Reverso (Madrid, Spain).
Streamed live on YouTube, December 18, 2020
Metabody_Toulouse 2020 #4 on the theme "Distant bodies".
Participants: Jean-Marc Matos, Rachel Oña, Suzanne Fossan, Hengame Yahyazadeh, Laure Lapeyre, Jaime del Val and Ahlam El Morsli.
With the suport of: City of Toulouse, European Union (dissemination), Franch Institute of Casablanca, Morocco. Location: Cultural Center Bellegarde, Toulouse.
Video: Ambre Cazier > video teaser
Metabody_Toulouse 2020
Plateforme transdisciplinaire Danse / Technologies numériques
Metabody_Toulouse est une plateforme – laboratoire de recherche et création, issue du projet européen Metabody, qui s'adresse de manière transdisciplinaire à des artistes, chercheurs, scientifiques, technologues créatifs, pour travailler à élaborer des scénarios d'avenir autour du corps humain en relation avec les technologies numériques. Elle est animée, depuis 2013, par la Cie K. Danse.
Les partenaires sont à la fois des acteurs toulousains, régionaux, français et internationaux, invités à participer selon les thématiques annuelles proposées.
Chaque année, Metabody_Toulouse propose des séances d'expérimentation artistique, formation, recherche, sensibilisation et création, ouvertes à tous les publics, de tout âge, amateurs et professionnels.
Pour l'édition 2020, la thématique s'articule autour du « corps distant » dans toutes ses situations et les capacités à rendre présentes et sensibles des expériences physiques partagées, entre espaces plus ou moins éloignés.
Site Metabody_Toulouse : https://www.k-danse.net/organisation-evenements/
Projet soutenu par la Ville de Toulouse, le Département de la Haute-Garonne, la Communauté européenne (dissémination des projets partenaires), l'INAEM (Instituto Nacional de las Artes Escénicas y Musicales, Espagne). Accueilli par le Centre culturel Bellegarde, le studio La Vannerie, le Théâtre des Mazades, le Théâtre Marcel Pagnol de Villeneuve-Tolosane, la Place de la Danse CDCN Toulouse-Occitanie.
Text on "thematics"

As digitisation of the world accelerates via the pandemic it's urgent to redefine digital technologies and telematic relations in ways that involve a richer body of "broader bandwidth" and richer sensory-motor spectrums. The experience of previous years in Metabody Toulouse will be now staged simulating a telematic connection between two performers or between performer(s) and audience, in an intimate immersive setting where we will propose unprecedented ways of involving the body in telematic relations. The stage will be divided in two parts, simulating a telematic encounter. The movements of each interactor in each "side" of the stage will be transferred to the other side, affecting the robotic movements of a flexinamic sculpture/architecture suspended in each side, to which the interactors are attached, as well as to interactive lighting, sound and visuals, so that together they create a common virtual-physical world but without transmitting video or audio signals, and including accelerometers on the body and bio signals. Specific focus will be on proprioception, the sense of internal movement of the body, as well as touch and proxemics, and how to heighten and enrich them in telematic situations. The dramaturgy will involve the gradual disalignments of confined, masked and enchained person that unfolds or unchains his/her movement freedom in a series of journeys inside the body, while expanding it, a body Odyssey in 2020. 
Proposition de fonctionnement :
Sur semaine de 5 jours, du lundi au vendredi, de 10h à 17h
Sur 2 jours, de 10h à 19h
Préparation dansée tous les matins, expérimentation-création les après-midis
Ouverture au public tous les jours (si possible), entre 16h et 17h
Présentation publique (si possible) de fin de résidence et performances, le dernier jour à 16h
Transmissions « live » sur internet, tous les jours
Crédits photos : Jaime del Val, Roseline de Thélin