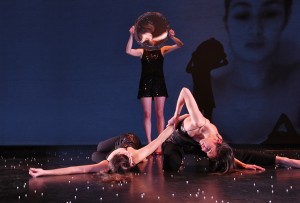 Production 2010
Contemporary dance and multimedia performance for three female performers,
adaptable for any stage and site specific outdoor public space.
Complete dossier / Photo HD / video excerpts
Recent presentations: in the context of CorpusMedia 2010,
– 21 may 2010, Théâtre Marcel Pagnol, Villeneuve-Tolosane, 8:00 pm
– 29 May 2010, Mix'Art Myrys, Toulouse, 9:30 pm
– 19 June 2010, "Mouvements sur la Ville" Festival, l'Atelier, Montpellier 3:00 and 11:00 pm
– 16 July 2010,« Llunes d'esBaluard » Festival, Palma de Mallorca, Balearic Islands, 10:00 pm
Choreographic trio inspired by Hélène Cixous' The Laugh of the Medusa and Australian poet Diane Fahey's feminist poetry, Genesis 3:16 un-occults woman as a concept and exposes classical representations: women stuck in mythological stereotypes in the interest of power, women having to express according to dominant male discourse, women who cannot explore their black continent because "black is dangerous". By associating dance, text, song, music, images and symbolic objects in a journey towards a feminine being-in-the-world, another vision is allowed to emerge.
Performers: Aude Miyagi, Anne Panjwani, Julie Pichavant
Music: David Fieffé
Video: Guillaume Bautista
Costumes: Aude Miyagi
Light design: Jean-François Langlois
Concept: Anne Holst
Artistic and choreographic directorship: Anne Holst, Jean-Marc Matos
Project description
Genesis 3:16 is part of a series of several recent pieces which deal with the theme of the relationships between the gender: Echo Room (2009), Nuit Ecran (2007), Lovely User (created for the Monik Festival, Odyssud, Blagnac, 2005).
With music, text and movement the performers embody these visions to give the audience an entertaining interpretation of the tensions between them.
Duration: 50 mn.
photos [flagallery gid=13]
(photos: Karine Labrunie)