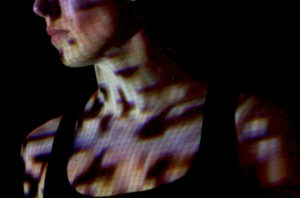 A human being – Her selves – A creature
Myselves, an interactive choreographic performance, stages a dialog between a dancer and her multiple selves, embodied in an autonomous and unpredictable visual and aural creature, which emanates from her psyche as interpreted by optical and body sensors.
full dossier  –  artists bios  –  tech sheet  – video excerpts of the preconcept  – see photos down below
 A contemplative, metaphysical artwork.
An inner journey.
In touch with the mystery of the breath of life.
Production 2018-2019  – duration: 50 mn – all audiences – all spaces (theater, exhibition hall, etc.)
Jean-Marc Matos: co concept, choreography
Marianne Masson: co concept, co choreography, dance
Antoine Schmitt: co concept, interactive visual and aural creation www.antoineschmitt.com
Sound design: Antoine Schmitt & Jean-Marc Matos
Music: Robert Crouch, Ipek Gorgun, Nils Frahm, Franck Vigroux, Daniel Brandt, Hauschka, Klara Lewis & Simon Fisher Turner, Biosphere
Lights: Fabien Leprieult
Costumes: Benjamin Haegel
Collaboration on the technology: Stefano Piana (engineer)
Research Center Casa Paganini_InfoMus, Genoa, Italy, Dir. Antonio Camurri
Automatic analysis of movement qualities made with the EyesWeb platform
Video shooting and editing (preliminary tests): Guillaume Pique
Location: La Vannerie-La Baraque, City of Toulouse (June 2018)
Partners:
Research Center
InfoMus Casa Paganini, Genoa, Italy 
DIBRIS, University of Genoa, Italy
Bogliasco Foundation, Genoa, Italy –  New-York, USA
Cultural Center Bellegarde, Toulouse, France
Theater the Ring, Toulouse
Theater Marcel Pagnol, Villeneuve-Tolosane
Studio La Vannerie-City of Toulouse
Cultural center Jean de Joigny, Joigny
Support:
City of Toulouse
Regional Council Occitanie Pyrénées Méditerranée
General Council of the Haute-Garonne
Spedidam
European project WhoLoDancE www.wholodance.eu
photo credits: Fabien Leprieult