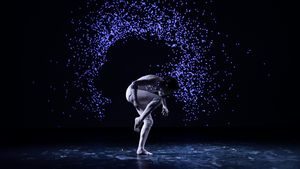 Un ser humano – Sus seres – Una criatura
Myselves, an interactive choreographic performance, stages a dialog between a dancer and her multiple selves, embodied in an autonomous and unpredictable visual and aural creature, which emanates from her psyche as interpreted by optical and body sensors.
full dossier       artists bios       teaser     see photos down below
 
A contemplative, metaphysical artwork.
An inner journey.
In touch with the mystery of the breath of life.
Production 2018-2019  – variable durations: 25-50 mn – all audiences – all spaces (theater, exhibition hall, etc.)
Jean-Marc Matos: co concept, choreography
Marianne Masson: co concept, co choreography, dance
Antoine Schmitt: co concept, interactive visual and aural creation www.antoineschmitt.com
Sound design: Antoine Schmitt & Jean-Marc Matos
Music: Robert Crouch, Ipek Gorgun, Nils Frahm, Franck Vigroux, Daniel Brandt, Hauschka, Klara Lewis & Simon Fisher Turner, Biosphere
Lights: Fabien Leprieult
Costumes: Benjamin Haegel
Collaboration on the technology: Stefano Piana (engineer)
Research Center Casa Paganini_InfoMus, Genoa, Italy, Dir. Antonio Camurri
Automatic analysis of movement qualities made with the EyesWeb platform
Residency at the Bogliasco Foundation, Genoa, Italy (Fellowship 2017) https://www.bfny.org/
Video shooting and editing: Guillaume Pique
Location: Theater le Ring, Toulouse (March 2019)

Touring dates:
– May 29-June 1st, 2023, Theater Magtymgouli, Achgabat, Turkemistan, invitation French Institute, 30rd anniversary of EU / Turkmenistan relationships
– March 26-27, 2023, Festival Année Zéro, Bernay, Normandy
– October 8, 2021, Festival of Grenade sur Adour
– September 26,  2021, Festival Mercurio, Sicilia, Italia
– January 16, 2020, Salle du Jeu du Mail, Pamiers (residency start-up January-September 2020)
– April 25, 2019, FIAV (Video International Festival), Theater of the French Institute, Casablanca, Morroco
– May 9, 2019, Theater Marcel Pagnol, Villeneuve-Tolosane
– March 22-23, 2019, premiere, Theater le Ring, Toulouse
Partners:
Research Center InfoMus Casa Paganini, Genoa, Italy DIBRIS, University of Genoa, Italy
Bogliasco Foundation, Genoa, Italy –  New-York, USA
Centro cultural Bellegarde, Toulouse, Francia
Theater the Ring, Toulouse
Theater Marcel Pagnol, Villeneuve-Tolosane
Studio La Vannerie-City of Toulouse
Cultural center Jean de Joigny, Joigny
Support:
City of Toulouse
Regional Council of Occitanie Pyrénées Méditerranée
General Council of the Haute-Garonne
Spedidam
European project WhoLoDancE www.wholodance.eu
creditos fotos: Fabien Leprieult