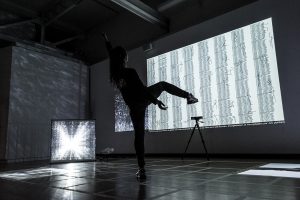 Production 2017 project site

Interactive installation with performance

– Groupe EDF Foundation , Paris, December 8-14, 2017.
– February 6, 2018, Pyramid of the Louvre, Paris (private Accenture evening) see photos in the Read more
Collaboration with artist designer Thomas Guillemet and programmer Clément Barbisan.
Recipient of the Pulsar Open Art Prize 2017.
Dancer-performer Pauline Lavergne and Video artist-photographer Yoan Rihouay.
Automated analysis of movement qualities with EyesWeb: Casa Paganini-InfoMus Research Centre, DIBRIS, University of Genoa. EyesWeb patches developed by Stefano Piana.
"Le corps​ ​comme limite​ ​du code​"​. Une ​installation interactive grandeur nature dans laquelle le visiteur, par ​s​es ​"​qualités de mouvements​ inhabituels", a la capacité d'épuiser le code informatique et mener au « crash » le système numérique qui le suit à la trace et analyse ses moindres gestes.​ V​ia un réseau de neurones réalisé ​en collaboration avec Infomus*, ce laboratoire d'explorations corporelles, médié chorégraphiquement par de la performance dansée​ et le dispositif, s'explore à travers une perception physique, visuelle et sonore en temps réel, vision miroir​ de l'interprétation de ces gestes par la machine.​ Pour finir toutes ces captations erronées pour la machine mais de qualité pour l'humain seront collectées sous la forme d'une Partition d'"erreurs" gestuelles. *Centre de Recherche InFomus Casa Paganini, Gênes, Italie
Conception​ & ​création : Clément Barbisan (programmeur), Thomas Guillemet (artiste​ et​ designer), Jean-Marc Matos (chorégraphe)
Partenaires de réalisation : Pauline Lavergne (danseuse-performeuse), Yoan Rihouay (réalisateur vidéo), Stefano Piana (informaticien développeur du Centre de Recherche InFomus Casa Paganini, Directeur. Antonio Camurri, Gênes, Italie)
Soutiens : Pulsar The Open Art Prize, Fondation Groupe EDF, TechShop Paris/Ivry, DRAC Ile de France, le plus grand campus de startups au monde Station F, Accenture