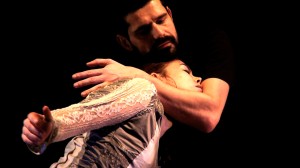 Production 2013 – all audiences – see photos further down the page
full length video           video 10 mn            Touring Central America

tech sheet
full dossier
press clips – recent press
workshop description
Contemporary dance and interactive digital media
Choreography/concept/images: Anne Holst & Jean-Marc Matos
Interactive design, light and sounds: Scenocosme (Grégory Lasserre & Anaïs met den Ancxt)
Created with and danced by Marianne Masson & Mario G. Sáez
A very free, poetic and bitty adaptation of the classical tale « The Beauty and the Beast ».
The energy of the physical contacts between the dancers induces the music and lights in real time, via a customized tactile costume.
Video images are created live by the dancers on stage (landscape of objects, mobile camera)
– April 15, 2014 – Community space, Mondonville (near Toulouse)
– October 26, 2013 – Mas de Baumes, Ferrières-les-Verreries www.masdebaumes.com
– Recent touring, 2013: France, Central America (see details in the read more)
– February 1st-March 9 2013, Visual Arts Le Majorat, Villeneuve-Tolosane

Hybrid project, The Tiger's Bride is a very free, poetic and bitty adaptation of the classical tale « The Beauty and the Beast ».
The choreography weaves its construction through the essential ambiguity of the body, between exteriority and interiority, between objectivity and subjectivity. In the classical tale, the Beauty must accept the Beast in order to become a person. Here, they have to mutate in order to get rid of the social constructions and transform their bodies into bodies with agency, carried out by the expressive power of movement.
During the performance, the energy of the physical contacts between the dancers induces the music and lights in real time, via a customized tactile costume. Tactile sensors swarm the body under the costumes so that a touch can become a sound, a storm, a voice, a light…animal freedom! »
Recent touring:
– March 29, 2013, Festival « Traverse vidéo », Cultural Center Bellegarde, Toulouse
– Tour in Central America: February 22-March 24
, presentation of the performance and creative workshops on "Dance and Digital Arts" in El Salvador, Honduras, Nicaragua, Panamá, Costa Rica, with the support of the network of the French Alliances of Central America, the French Embassy of El Salvador, the IFAC and the Regional Council of Midi-Pyrénées/Institut Français (Ministry of Foreign Affairs).
El Salvador, San Salvador, Biblioteca Nacional, February 21 (presentation of the performance as an outcome of the workshops, February 17-21)
El Salvador, Suchitoto, Teatro Alejandro Coto, February 23
El Salvador, San Salvador, Teatro Nacional, February 27
Honduras, Tegucigalpa, Honduran Institute of Hispanic Culture, March 04
Nicaragua, Managua, Theatre P.M Koltès, French Alliance, March 09
Panamá, Panamá, Teatro Ateneo, City of Knowledge, Panama Canal , March 15
Costa Rica, San José, Dance Theatre,
March 21 (presentation of the performance as an outcome of the workshops, March 18-21) video excerpts of the workshop
– February 1st-March 9 2013, Visual Arts Le Majorat, Villeneuve-Tolosane:
– Performance "The Tiger's bride" and opening of the video installation "Nothing human lives here", February 1st
– Video installation "Nothing human lives here", February 1st to March 9, 2013