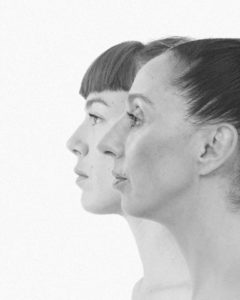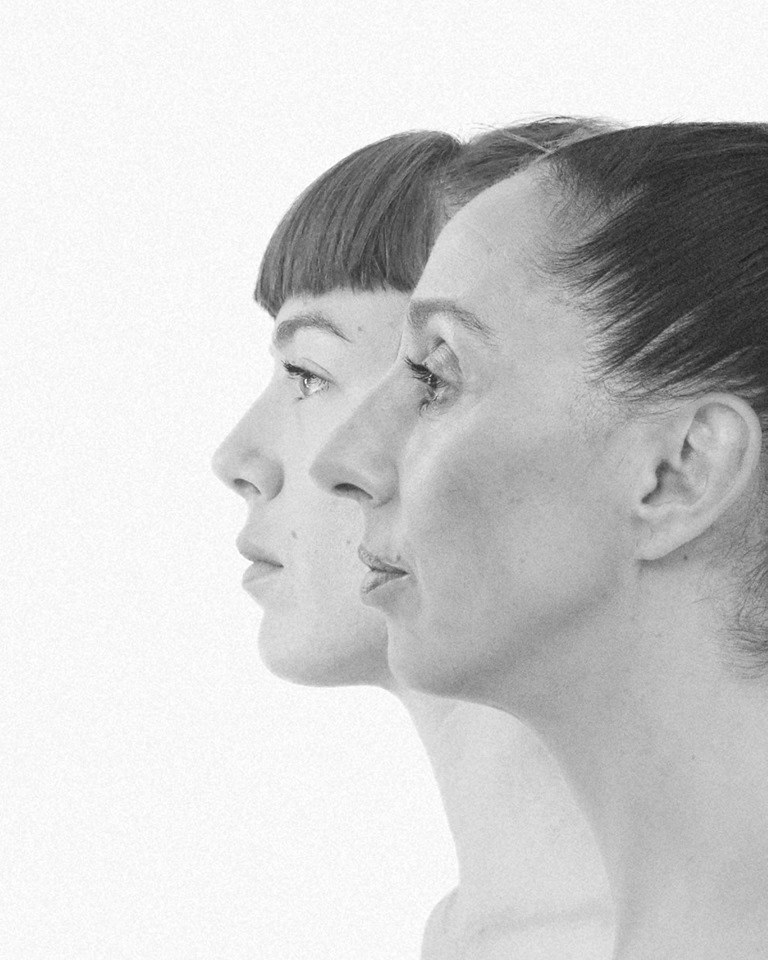 > November 14, 2019, 8pm, Theater of the French Institute, Madrid, Spain
> October 4, 2019, 6pm, La Brique Rouge, Toulouse – Outcome of a Residency (October 1-3) as part of Metabody_Toulouse 2019 and the Biennale / arts vivants / International

Collaboration K. Danse & Instituto Stocos (Madrid) – work in progress
Two sisters, Two Pandoras. As imagined from the Greek myth the metaphor of what it's released into the world from the jar Pandora cannot stop herself from opening can be seen as the many negative aspects carried by digital technology, since this action is commanded by Zeus who wants to punish Prometheus from having stolen fire (technology) from heaven.
This performance imagines two women inventing another relationship to digital technology as they explore the many possibilities offered to them, through a mutual composition that attempts to draw a delicate line between the act of resisting and the fragility of situations produced by the strong and immediate interaction between bodies, music and light. This piece, and the technology associated to its production, has been created by Instituto Stocos and K. Danse within the European WhoLoDancE project (H2020 program).
Presented, for the first time, October 2018, in the context of the RomaEuropa Festival, Rome, Italy.
DISTRIBUTION
Choreographers: Muriel Romero & Jean-Marc Matos
Dancers: Muriel Romero & Marianne Masson
Music: Pablo Palacio
Software and interactive technologies: Infomus Casa Paganini (Genoa, Italy) & Instituto Stocos
Interactive laser technology: Instituto Stocos
photo credits : K. Danse/Stocos and Mateo Martin (faces)
FRANCE / SPAIN
Presented as part of the La Biennale / Arts vivants / International, September 24 – October 12 octobre, 2019 and the Novembre numérique 2019
Partners:
– City of Toulouse (aide au projet Metabody_Toulouse)
– Conseil Départemental de la Haute-Garonne (aide au projet Metabody_Toulouse)
– Bellegarde cultural Center, Toulouse (portage, soutien financier, organisation, prêt de matériel et accueil du projet Metabody_Toulouse)
– Theater La Brique Rouge, Toulouse (accueil en résidence et présentation du spectacle)
– European Community (EU WhoLoDancE project)
– AC/E (Action Culturelle Espagnole), aide à la mobilité des équipes espagnoles accueillies en France
– French Institute of Madrid, Spain >> présentation du spectacle "Deux Pandores" le 14 novembre 2019
– INAEM (Instituto Nacional de las Artes Escénicas y Musicales) – aide aux tournées des équipes espagnoles accueillies en France
IN THE CONTEXT OF METABODY_TOULOUSE 2019
Metabody_Toulouse est une plateforme collaborative d'expérimentation, de réflexion, et de présentation d'œuvres artistiques, achevées ou en cours, proposant des échanges transdisciplinaires entre artistes (spectacle vivant, performance, création visuelle, musique, arts plastiques, arts interactifs), programmeurs, inventeurs, scientifiques (chercheurs, ingénieurs, étudiants) et le grand public. Ces rencontres initiées sur Toulouse depuis 2013 par la Compagnie K. Danse dans le cadre de ses activités de recherche artistique et technologique, sont issues du projet européen Metabody et intègrent celles du projet européen WhoLoDancE.
Metabody_Toulouse 2019 propose d'appréhender ces cinq mots : corps, mouvement, matière, lumière, espace pour constituer une matrice de propositions articulées autour de la danse, le mouvement, le corps en général, ses relations avec la matière, la lumière, l'espace.
Voir aussi un autre événement dans le cadre de Metabody_Toulouse 2019 → Metatopia 6.0