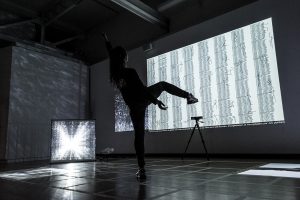 Instalación performance >> Extractos video del making of
Danza e inteligencia artificial    Web del proyecto
ver fótos mas abajo en la página
dossier completo en inglés
Nueva presentación:
– Viernes 27 de Noviembre, 2020, Noche europea de Investigadore.a.s, Ciudad del espacio, Toulouse (cancelado por causa de pandemia Covid).
Otras presentaciones:
– 30 de Septiembre 2018, Entretiens de Royaumont, La Sorbona Abu Dabi, Emiratos árabes Unidos (Instituto Francés)
– 6 de Febrero 2018, Pirámide del Louvre, Paris
– 8-14 de Diciembre 2017,  Fundación Groupe EDF, Paris
– Abril 2018, Galeria del Crous, Paris (exhibición personal de Thomas Guillemet)
– Mayo 2018, exhibición « mutación/creación: encodar el mundo », Centre Georges Pompidou, Paris
"The body as the limit of coding", is an interactive life-size installation where a numerical system tracks and analyses the minutest gesture of the body. Visitors go through an experience inside this laboratory of physical exploration which transcribes their movements visually and into sound in real time through a network of neurons created in collaboration with InfoMus*, and mediated choreographically by a performer. By bypassing the computer code through the invention of unconventional movement qualities, visitors can bring the system to "crash". The machine then calculates and collects the participants' movements in the form of a score of gestural "errors" visible in the installation as a mirror interpretation.
Concept & ​création: Clément Barbisan (programmer), Thomas Guillemet (artist and​ designer), Jean-Marc Matos (choreographer)
Team: Pauline Lavergne (dancer-performer), Yoan Rihouay (video film maker), Stefano Piana (computer engineer at the Research Center InfoMus Casa Paganini, Director Antonio Camurri, Genoa, Italy)
*Automated analysis of movement qualities with EyesWeb: Casa Paganini-InfoMus Research Centre, DIBRIS, University of Genoa, Italy.
EyesWeb patches developed by Stefano Piana.
Partners: Pulsar The Open Art Prize, Fondation Groupe EDF, TechShop Paris/Ivry, DRAC Ile de France, The Contemporary Art Center of Auvers sur Oise, The Fondation de France, campus for startups Station F, Accenture
fótos Le Louvre: Jean-Marc Matos